Welcome back to Friday, y'all! You saw how well my Friday went last week with a broke down car (yes, that's purposeful incorrect grammar), so this week can't be any worse. Thank The Lord it's FRIDAY! Now...go back and read that as if it said "IT'S HUMP-DUHAYYYYYY" except with Friday. You get it, right?! Yes? Good! Today, I'm linking up again with Lauren Elizabeth for High Five for Friday! She has a wonderful lifestyle blog that's down to Earth and very easy to read.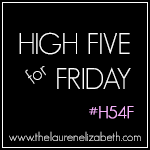 This week has been just as horrid as the last two, except worse. Since I work in higher education, and it's registration time, things are CRAY CRAY. Add to that preparing for Spring graduation ceremonies, and it's even better. And by better I mean crazier.

Here's a look back at 5 of my favorite things from the week. And, GO!

1. Last night, Manfriend and I went to the Carolina Hurricanes game at the RBC Center. Oops, I mean PNC Arena. The place has changed names so many times since it's been built, I can't even keep up. I won 2 free tickets from a Facebook contest for Stevens Sausage Company, a local pork producer here in Eastern NC. We had so much fun! Too bad the Hurricanes didn't win their last home game of the season, but it was a great night out.

2. This weekend I have absolutely zero plans. Yes, you read that right. I have ZERO plans set in stone, and I love that. I can do what I want, where I want, when I want, and not worry about being late or under-dressed for the occasion. Of course, this doesn't mean I have nothing to do, it just means I have no plans.
3. It's finally feeling like spring here in Raleigh. While that can sometimes take forever, we're especially grateful for it after the long and harsh winter we had. It's going to be in the 80s until Monday and I can't wait. This means I can wear J Crew chino shorts this weekend with Jacks and be happy, happy, happy!

4. My yard is finally looking like someone actually lives in the house. My home sat empty for more than 3 years before I bought it and moved in, and I've cleaned up and done things in the front yard and inside, but didn't pay much attention to the side yard or backyard until now. It's life changing, and muscle-sculpting, I'll tell ya! (I'll also be writing more about home improvements and yard stuff later!)

5. Possibly the best thing all week? This fatty found fat-girl heaven in the form of Spring Funfetti cake mix and icing at the Food Lion. Heaven, y'all. Pure, saturated fat, artery-clogging heaven. (Yes, I bought it, and I'll be baking it right up Sunday morning!)

Anything exciting happen for you this week? If so, do tell! Have a great weekend, y'all!

xoxo!