Hey y'all! It's

Two For Tuesday

, again. This time, I'm talking about two of my favorite things that have happened in the past
weekly episode of Amy's life, aka the
shit show.
The struggle has been real, y'all.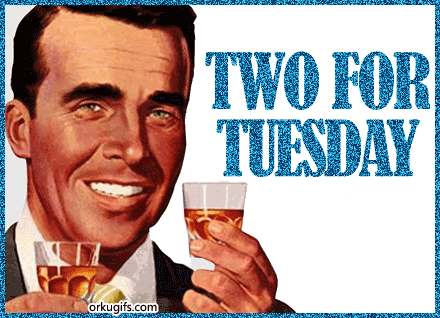 ...No, not two SHOTS. Although I wish I had two shots. I think I had two too many Saturday night. Jack Daniels- 239, Amy- 0...
1.

My manfriend and I went on an accidental overnight trip to the beach

. We had originally planned a long weekend away, but then it didn't work out for either of us to take 2 days off work, so day trip to Wilmington/Wrightsville it was. Well, until we get just into Wilmy and my car breaks down. Whomp whomp. And, yes, if you know me, you know I needed 2 shots of my best friend Jack (Holly, you could have had some, too) and a bottle of Xanax. Since neither was an option, I joined AAA over the phone, got the car towed, had an emotional breakdown at the AAA body shop (those people thought I was a crazy lady. If only they had any idea), and ended up spending the night with my aunt and uncle. The Lord was looking out for us when he let my car make it to town instead of the power steering going out driving 80MPH down 40 East.
So, we still got to have lunch at Oceanic and walk down Wrightsville a bit, but even with it 80 degrees out, that ocean breeze was just a little too much. These fish tacos were the bomb dot com. Spicy as hell, but delicious, nonetheless.
Since my car STILL wasn't ready because no one east of the Mississippi (

or so it seemed

) had the ONE part my car needed, we spent the night and even had the chance to lay on the beach at Surf City Saturday morning for a couple hours. Just what my soul needed. I've always wondered how a person can look at the ocean and the beach and not believe in God. (But that discussion is for another day...)
2.

I've been crafting, crafting, crafting and planning away for my friend Ashley's bachelorette night out!

I am pretty sure I have been to Michael's and the Dollar Tree about 10 times in the past 2 weeks. I love crafting and planning a good party and can't wait to share a bunch of DIYs, Pinterest-inspired crafts, recipes, and party-planning tips in a blog series after April 26. Can't spoil any surprises for the Bride-to-Be!
Have you done anything exciting but expected in the past week? Ever had the beginning of a trip go way awry but then be amazing? If so, let me know!