As per usual on Fridays, I'm linking up again with Lauren Elizabeth for High Five for Friday.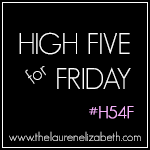 Here's a look back at 5 of my favorite things from the week. And, GO!
1. As y'all know, last week was one helluva longggg and tedious one for me. The struggle was real. My plan last Friday night was to go to the tanning bed and then head home to just drink wine on the couch while watching TV. Thank goodness for friends like Madi (you met her here)! She texted me just as I was finishing up at the tanning bed to come over to her house and drink. Well, that took a lot of arm twisting. Thankful for a relaxing, wine-filled. and girl talk-laden Friday night to unwind!
Sweet, sweet Southern wine from Duplin Winery!

2. All day Sunday, and I do mean alllllll damnnnnnn day, was filled with yard work. As I've noted before, my house was empty for about three years prior to my purchasing it, and even in the year I've been here, I was focused on the inside and just keeping the front yard mowed. So, Sunday was devoted to more in the back yard. It's crazy what 6 hours and a lot of blood (literally), sweat, and elbow grease can do.
Ooooo....the pollen. Yes, look at all that yellow.
Front Yard Azaleas
Dogwood and Azealeas
Look at all of those leaves and limbs.
My most proud comparison picture. The top was about a month ago, after I had already gotten rid of some leaves. The bottom is Sunday evening. Notice the middle and right and the difference in raking leaves and cutting back bushes.
3. Super Super Super proud of myself for finally getting on the make ahead meal prep bandwagon this week. You can read more about this goodness here.
Grilled Chicken, Brown Rice, Roasted Asparagus, and Steamed Broccoli. Pretty, healthy, and tasty!
4. On the same cooking thread, I officially cooked Monday night for make ahead meal prep, Tuesday night for myself, and Wednesday night for the manfriend. Wednesday night's dinner menu was comprised of chicken stir-fry with brown rice, and not only did he eat it right up, even went back for seconds. That's what I call a girlfriend WIN!

Bonus tip

: I actually used leftover grilled chicken from Monday night's meal prep. I made too much then, so I refrigerated, cut into smaller pieces before throwing in with the veggies, and warmed.
Chicken Stir-Fry
5. Crafting is still well underway for my friend Ashley's bachelotette party/night out next Saturday night. I'm not ready to reveal anything yet, but it's going to be a boot-stompin' good time!
Hope y'all have had a great week! I'll be going to church and having family time Sunday to reflect on how blessed I am and to celebrate the season of Easter and what it really means. Have a good one!
xoxo!