SO...today is Thursday, which makes it
little Friday,
and time for the linkup with Ashley from The Grits Blog
! And not only is today the first day of spring, but it's also the first day all week we haven't had to bundle up in fifty layers in Raleigh to go outside. AND, perhaps even better than the first day of spring, it's the first day of March Madness! Bring on the basketball, beer, and upsets. Starting with NC State (12) playing St. Louis (5). As always,
GO PACK!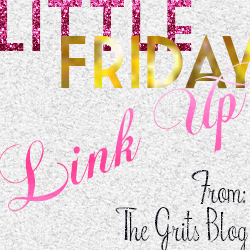 Last night, I ventured back into the world of "O, shit. Amy's cooking dinner. AND trying a new recipe for the first time so let's hope she doesn't burn down the house." Well, all is well (except my house still smells like onions and peppers this morning. Whatever.
I made these super duper smelling and tasting baked chicken fajitas from Eatin' on the Cheap. They are AMAZING! I'll admit, I didn't have all of the spices on the recipe, so I just used what I had on hand, so I can't even imagine how much better they would have been with everything.
Ingredients:
2 large chicken breasts (cut into strips)

1 (15oz) can tomatoes (I used the no salt added to cut down on sodium)

1 (4oz) can diced green chilies

1 medium onion, sliced

1 large green bell pepper, seeded and sliced

1 T vegetable oil

1/2 t. garlic powder

1/2 t. dried oregano

1/4 t. salt (I personally did not use just to cut down on sodium)

flour tortillas

2 t. chili powder (did not have)

2 t. cumin (did not have)
Pre-heat oven to 425 degrees. Mix together in 12x9 glass baking dish chicken, tomatoes (I drained most of the juice from them before pouring in the dish), chilies, peppers, and onions.
Like I said, I used the no salt added tomatoes to reduce sodium. Don't mind my snacks and wine bag in the background, I like wine.
After onions, peppers, tomatoes, chilies, and chicken are in dish, mix together in small bowl the oil and spices. Drizzle on top and mix again to coat all ingredients.
Place in the oven uncovered to bake for 35-45 minutes, or until chicken is cooked through and veggies are tender.
Serve with warm tortillas and enjoy!
Hope you all enjoy this recipe and can put it to use for yourself. One of the amazing parts for me is that I was eating this particular meal by myself, and have 3 servings of leftovers for lunches at work and one for dinner. With my thrifty grocery shopping, it only costs about $2.50-$3 for each meal. More on money-saving grocery tips tomorrow! Please come back and let me know if you try the recipe and what you think!